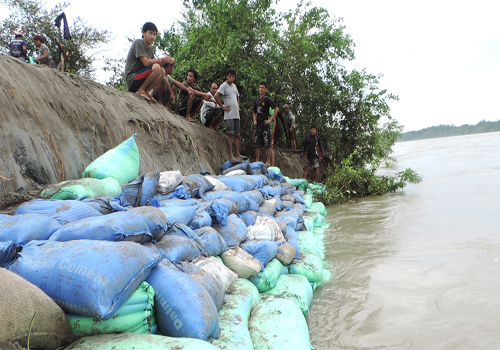 ITANAGAR, Sep 15: Member of Parliament Ninong Ering has written to Prime Minister Narendra Modi, demanding dredging of the Siang riverbed from Rengging to Oiramghat, and construction of embankment.
The parliamentarian from Arunachal Pradesh informed the PM about the large-scale siltation and erosion by the Siang river posing serious threat to the lives and properties of the riverside dwellers.
Our correspondent adds: Ering on Friday visited erosion-hit Borguli, Serum, Namsing and Mer villages in Mebo subdivision. He assured the affected families that the state and the central governments would take all necessary steps for their rehabilitation.
He announced Rs 5 lakhs for taking up anti-erosion measures at Borguli.
During his visit, Ering also provided 400 empty plastic bags to the village women, who were undertaking measures to halt erosion on the Borguli side with sand bags.
The MP also said he would submit a proposal for protection of the natural vegetation in the Daying Ering Wildlife Sanctuary.