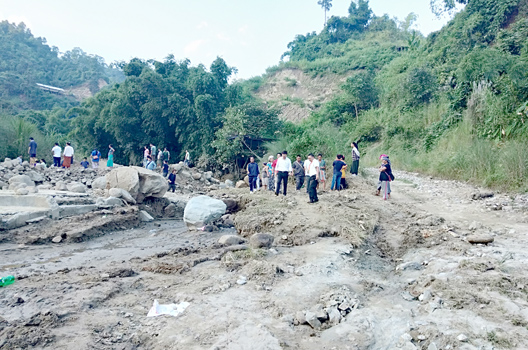 ITANAGAR, Sep 18: State BJP president Tapir Gao along with leaders of the party's capital district unit inspected the flood- and landslide-hit Modirijo and Donyi Polo Vidya Bhawan Colony on Tuesday.
They interacted with the family members and relatives of the victims, and distributed cash relief on behalf of the BJP.
The relief distribution programme was organised by the party's capital district unit under its president Tarh Soping after a contribution drive was carried out on 16 September at the state legislative assembly campus.
Addressing the residents, Gao said, "We cannot challenge nature, but we should opt for preventive measures while constructing houses."
He said "the government is always there to assist its people but the people also need to shoulder their responsibility."
Gao assured his party's support, and asked Soping to process the case of granting ex gratia.