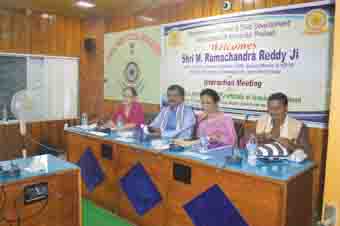 NAHARLAGUN, Sep 20: Central Adoption Resource Agency (CARA) advisory committee chairman Ramachandra Reddy suggested establishing specialized adoption agencies in all the districts of Arunachal Pradesh.
He said this during a meeting with Women & Child Development (WCD) Minister Nabam Rebia here on 19 September.
Reddy, who was accompanied by members of the CARA's advisory committee Nisha Jha and Dr G Sreenuis, was on a three-day visit (18 to 20 September) to Arunachal Pradesh to promote adoption.
On his part, Rebia assured to extend full support for the cause of children's well-being, and said the state government is fully committed to the safety and security of children.
The team also visited the specialized adoption agency (SAA) and children's home run by the Oju Welfare Association (OWA) on 19 September. After meeting children of the child-care institutions and infants of the SAA, the advisory committee expressed satisfaction with the facilities being provided.
They lauded OWA chairperson Ratan Anya for her services to the society, and recommended providing best possible services to the children.
The team also assured to provide guidance and support to strengthen such institutions in the state.
Later, the team visited the child-care institution run by the Missionaries of Charity, interacted with the children there, and inspected the functioning of the institution.