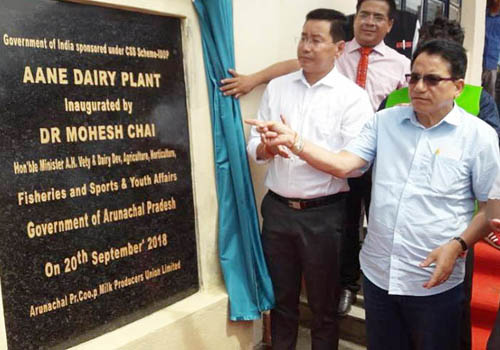 Correspondent
PASIGHAT, Sep 21: Animal Husbandry & Veterinary Minister Dr Mohesh Chai inaugurated a dairy plant in the Veterinary Training Institute (VTI) complex here on Thursday.
The diary plant has the capacity to process 2000 litres of milk per hour.
Dr Chai said the state government is committed to boost the rural economy through agriculture and allied activities.
"The government is planning to set up such diary plants in Lohit, Lower Dibang Valley, West Kameng and Papum Pare districts soon," he informed.
Responding a memorandum submitted by the East Siang Dairy Cooperative Society Association, the minister assured them of all possible help for development of cattle farms and dairy industries.
He advised the dairy cooperative society members to select hybrid cattle in order to increase milk production and enhance their economy through dairy farming.
East Siang Deputy Commissioner Tamiyo Tatak, who was also present, advised the cooperative society members to set up dairy farms and avail of the benefits of the schemes of the state government through milk processing activities.