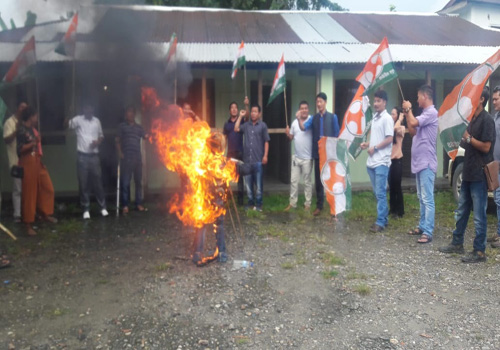 ITANAGAR, Sep 24: The Arunachal Pradesh Youth Congress (APYC) on Monday staged statewide protests against the BJP government, alleging corruption in the Rafale deal.
Terming it a major scam, APYC members burnt the effigy of Prime Minister Narendra Modi at Naharlagun.
They said the Rafale deal was "tweaked by the ruling regime to favour businessman Anil Ambani," and called it an example of "crony capitalism being practiced by PM Modi."
Recently, former French president François Hollande in an interview to a media house said France's Dassault Aviation was given no choice but to partner with Anil Ambani-led Reliance Defence for the offset clause in the Rafale fighter jet deal. He said it was the Indian government that proposed Reliance's name and Dassault had no choice but to take the company given to it.
"This clearly shows that the PM is helping his crony friend even at the cost of national security," the APYC alleged.
It said it would intensify its agitation over the Rafale deal and the fuel price hike in the coming days.
"We will organize statewide protests and will ask the BJP where is the promise of 'achhe din' that PM Modi had made to the people of India in 2014," the APYC stated.