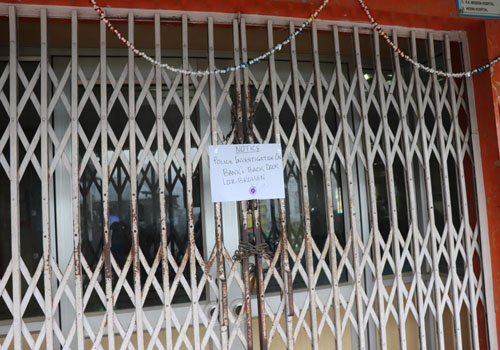 Staff Reporter
ITANAGAR, Sep 24: An attempted robbery at the Ganga branch of the State Bank of India (SBI) was foiled when the almirah the robbers were trying to steal got stuck on the stairway.
Superintendent of Police M Harsha Vardhan informed that the miscreants broke in through a window at the back of the building at around 4 am on Monday, but could not make away with anything valuable.
"They managed to reach only an almirah which contained some files," the SP said.
While Branch Manager Pitambor Taye did not divulge anything about the incident, sources informed that the particular almirah is used to keep some amount of cash during office hours as the employees cannot go back and forth to the vault each time. The cash is transferred from the almirah to the vault at the end of the day.
The robbers damaged three locks and a chain on the gate in the course of their attempted robbery. They broke the lock of the almirah, which only contained files and other documents at the time.
It is suspected that the robbers may have presumed that cash was kept in the almirah, the sources added.
The bank branch was closed on Monday for investigation.
The SP said that the CCTV footage at the bank did not provide useful clues and no arrests have been made yet. However, he said, the police have a few suspects in mind.
The SP also commented on the lax security arrangement at the SBI branch, and asked the bank's authorities to strengthen the security at their branch.
ATM vandalized
Meanwhile, the Axis Bank ATM near Heema Hospital was vandalized last Saturday night. However, no cash was stolen from its cash box compartment.
"Since the ATM is maintained by a private agency, the agency will be informed, and they will file an FIR with the police in this regard," said Axis Bank Senior Manager G Kaphungargpou.