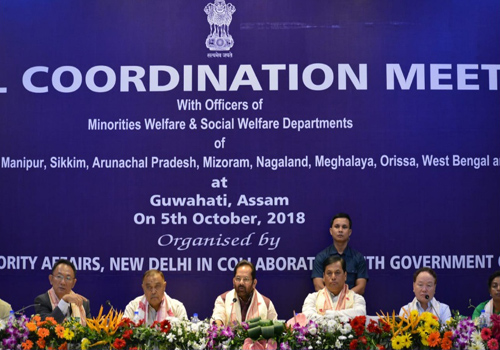 GUWAHATI (Assam), Oct 5: Arunachal Pradesh Social Justice, Empowerment & Tribal Affairs (SJETA) Minister Nabam Rebia on Friday urged the union minority affairs ministry to release the second installment fund for the ongoing sanctioned projects in various parts of Arunachal.
Addressing the zonal coordination meeting here of the minority welfare and the social welfare departments of the Northeast region, Rebia thanked the ministry for approving another 45 minority concentration areas in the state, but raised concern over the funding pattern and the delay in releasing the pending installment fund.
"The second installment fund of Rs 617.12 lakhs is pending to be released by the ministry against the ongoing sanctioned projects in various locations of Arunachal Pradesh.
It is earnestly urged to the ministry to look into the matter and release the pending installment at the earliest," he said.
He also spoke about implementation of the Multi-sectoral Development Programme (MsDP) in the state.
"At present the MsDP fund is released in three installments. The second installment of ongoing sanctioned projects are released after a long gap of 2 to 5 years despite submission of all required documents like utilization certificates, quarterly progress reports, photographs etc. The delay severely affects the progress of the project," Rebia said, and suggested that guidelines with regard to release of fund be modified and the fund released in one installment, "so that sanctioned projects may be completed within the timeframe."
The meeting was attended by, among others, Union Minority Affairs Minister Muqtar Abbas Naqvi, Assam CM Sarbananda Sonowal, Arunachal Pradesh SJETA Commissioner SJETA Gamli Padu, and SJETA Director Yumlam Kaha.