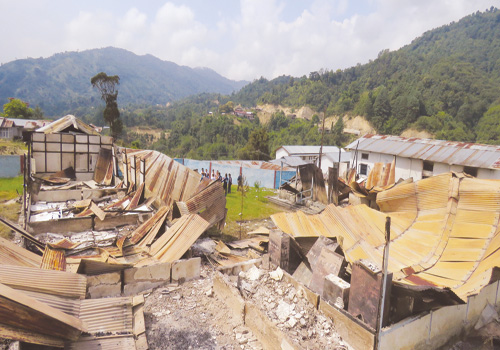 Staff Reporter
TALO, Oct 8: The All Nyishi Students' Union (ANSU) has demanded a magisterial inquiry into the fire incident that devastated the government higher secondary school here in Lower Subansiri district on 6 October.
An ANSU team led by its president Toko Takam and general secretary Tukbom Ligu on Monday visited the school and expressed shock and serious concern over the unfortunate incident.
The union urged the Lower Subansiri deputy commissioner to grant fund for immediate procurement of desks, benches, and other necessary infrastructure, so that the teaching and learning processes in the school can be started soon.
The union also demanded that the state government reconstruct the classrooms under the Chief Minister's Samast Shiksha Abhiyaan.
The ANSU president assured the school authority regarding providing blackboards, chalk pencils, a computer set, water filters, and sports items for the school.
"Nothing could be saved," Principal Toko Tubi said. "All the classrooms – barring the building for class 12 – along with the teachers' common room, the principal's and the vice principal's offices, the laboratory, the textbook store, service books, passbooks, computer sets, benches, desks, and all other official documents were completely reduced to ashes."
The total enrollment of the school is 122, out of which 37 are class 12 students.