Staff Reporter
ITANAGAR, Oct 20: Siang valley had a sigh of relief today as the waters of the Siang River did not surge after it started overflowing over the debris of landslide in main stream of Yarlung Tsangpo (Siang) on 20 October.
The land slide in the main stream of Yarlung Tsangpo in Tibet had led to a formation of a massive natural dam on 16 October that had blocked the flow of the river, but it started overflowing the debris from 19 October.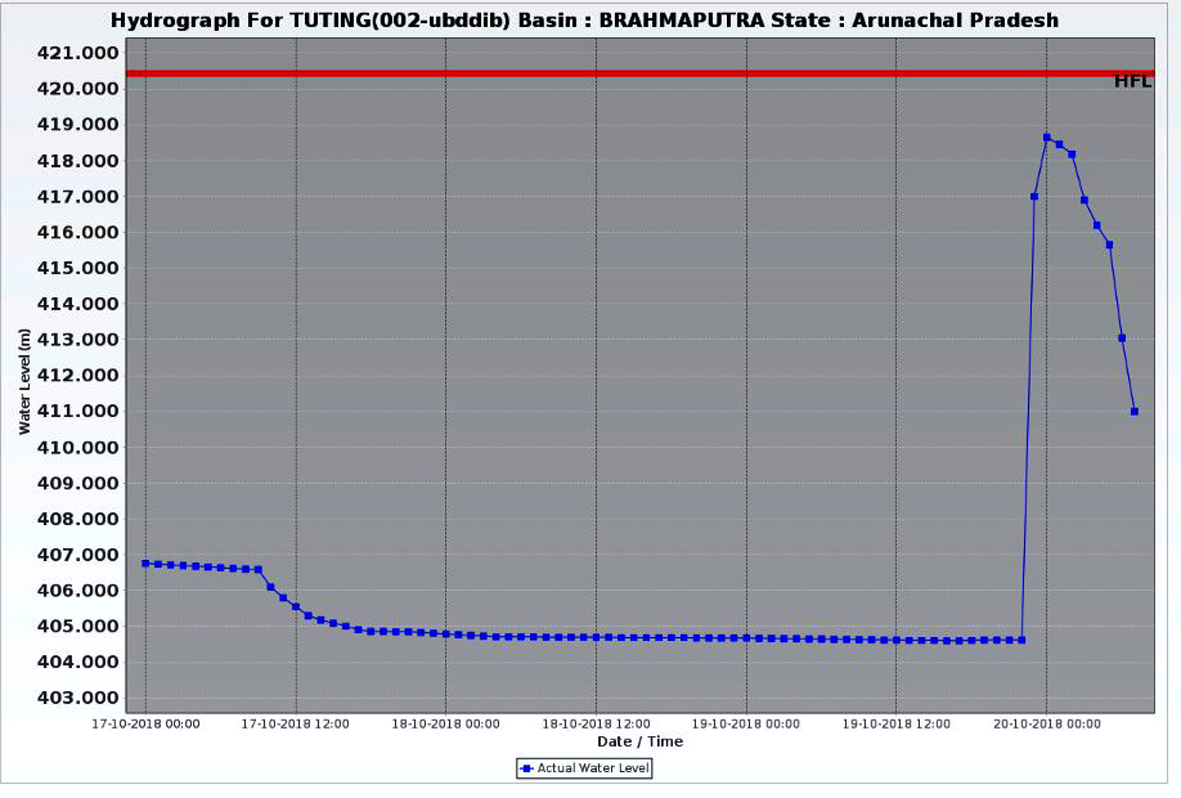 According to the Central Water Commission, Siang reached peak of 152.97 m, just 1 cm above the warning level at 1400 hrs and started falling from 1500 hrs.
Water level at Tuting was at 418.4 midnight, which was the highest recorded. It fell by more than 8 m by 0700 hrs on 20 October from the peak level attained during midnight on 19 October.
Though there was no major damage, one Som Bahadur Subba of Ayeng village in East Siang had to be rescued by the 3rd BN NDRF stationed at Komlighat
Our Pasighat correspondent reports that the surging water of Lali and Siang inundated low lying portions of Kobu Chapori Island at Jonai in Dhemaji district, while water that entered through breached embankment flooded the Bahir-Jonai rural areas.
About 200 villagers from Kobuchapori were evacuated from the island on the morning of 20 October.
The Department of Disaster Management in a statement said that "biggest ever exercise of disaster management in the history of state ended on Saturday late evening as the flood water, suddenly released by river Yarlung-Tsangpo in Tibet, passed through the state peacefully without causing any damage in its 300 Km route of Siang River".
The exercise involved the Chinese, Indian embassy in Beijing, NDRF, IAF, CWC, ISRO.
Ruling out further damage, Disaster Management Department, Secretary Bidol Tayeng said, "The Chinese government informed that now there is no existence of any lake or dam at the landslide location at Yarlung-Tsangpo".
"The overflow at the landslides location, 80 Km downstream of Nuxia Hydrological Station at river Yarlung-Tsangpo started at about 2.30 pm on Friday, which subsequently reached Tuting at about 10.37 pm, Yingkiong at about 01.37 am and Pasighat at about 7:30 am on Saturday," he informed, stating that there was no damage along the way.
Two hundred NDRF personnel were flown in from Bhubaneshwar on Friday midnight by the Indian Air Force, which landed at the Pasighat airport in the wee hours of Saturday.
"They were proposed to be deployed in Tuting and Yingkyiong in Upper Siang, Pasighat and Mebo areas of in East Siang district. However, as flood water passed through the state peacefully, the deployment was concentrated around Pasighat and Mebo areas," Tayeng said.
"The deputy commissioners made all efforts to ensure that in event of any major disaster, there was no loss of lives and properties. Upper Siang Deputy Commissioner D Kamduk had the toughest time monitoring the flood water first entering India at Tuting," a department release said.
Meanwhile, Union Cabinet Secretary Pradeep Kr Sinha reviewed the Siang situation on Saturday with the Indian Embassy in Beijing and Arunachal Pradesh Chief Secretary Satya Gopal through a video conference.
Unlike the 2000 floods which devastated Siang valley, the Chinese government shared all relevant information with India this time.