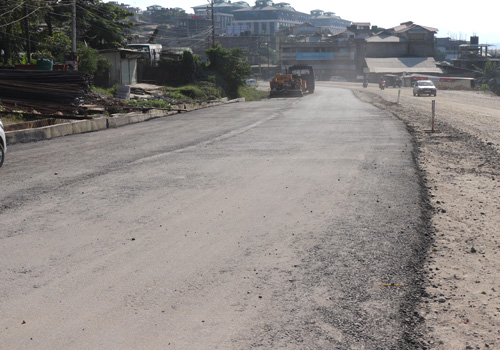 ITANAGAR, Oct 22: The TK Engineering Consortium started blacktopping work on the D Sector to secretariat stretch of NH 415 here on Sunday night, bringing much relief to the capital's people.
Speaking to this daily, TK Engineering's director Techi Tara said the work would pick up pace in the coming days as the rains have stopped.
"Due to the long monsoon, the progress of work was affected. Now that the rains have stopped, we are making every effort to speed up the work. Within the next three months the citizens should expect improvement in the condition of the road in the Itanagar township area," Tara said.
He expressed regrets for the inconvenience caused to the residents of the capital.
"We understand that the people are facing a lot of difficulties due to the ongoing construction work. But let me assure that we are making sincere efforts to speed up work. However, such a huge project takes time as there are various factors, like compensation, utility shifting, etc, which at times create unnecessary hurdles," he said.
Tara appealed to the citizens to cooperate with them, so that the four-lane project is completed on time as per the contract agreement.