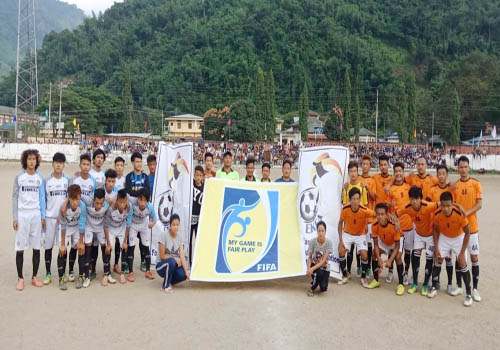 SEPPA, Oct 23: East Kameng Sporting Club (EKSC) on Tuesday lifted the first edition of the East Kameng Football Championship after beating Bameng Sporting Club (BSC) in a penalty shootout.
Ganga Rimo of BSC scored the first goal of the final match within 19 minutes of the game. Two minutes later his teammate June Dodum also scored a goal.
BSC's euphoria, however, was cut short when Wan Tallang of EKSC scored a goal in the 42nd minute, and Katan Neri equalized the score to 2-2 in the 85th minute.
Both the teams ended the match in a draw at the regular time. In the penalty shootout, EKSC scored 4 goals and BSC 3.
Seppa (West) MLA Mama Natung and public leader Norbu Sonam attended as the chief guest and guest of honour, respectively, and distributed the prizes to the winners.