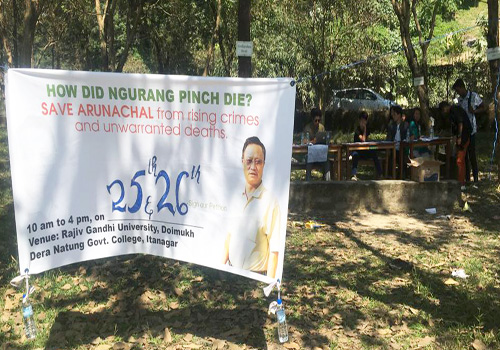 Staff Reporter
ITANAGAR, Oct 26: The family of former Doimukh MLA Ngurang Pinch continued with its signature campaign – holding it at Dera Natung Government College here on Friday – seeking a CBI probe into the circumstances leading to Pinch's death.
Speaking to this daily, the eldest daughter of Pinch, Ngurang Meena said the family is not satisfied with the pace of the current investigation. She said the family would stage a protest on 18 November, in commemoration of Pinch's first death anniversary.
"The state government has assured of a CBI inquiry, but there is no development on ground," said Meena.
She informed that the CBI director had earlier told the family to ask the state government to send the case to the police and personnel department, which would then forward the case to the CBI for investigation.
"We met Chief Minister Pema Khandu last month. He has always been cordial, but since no actual investigation is taking place, we are confused on whether he wants to help us or not," Meena said.
"The signature campaign is one of our last resorts to put pressure on the government to send the case to the CBI through the police and personnel department," she said.
"We are yet to get any answers," she continued. "Those who were with him have not revealed details of the circumstances that led to his death. If an investigation begins, our family will at least be able to move on."
Meena also called on the Nyishi Elite Society, the All Nyishi Students' Union, and the All Arunachal Pradesh Students' Union to come out and support the family.
"My father had served the Nyishi community and the state for over 30 years as a public leader. I hope these organisations consider his contributions and come out to support us in finding out the truth behind his death," she said.