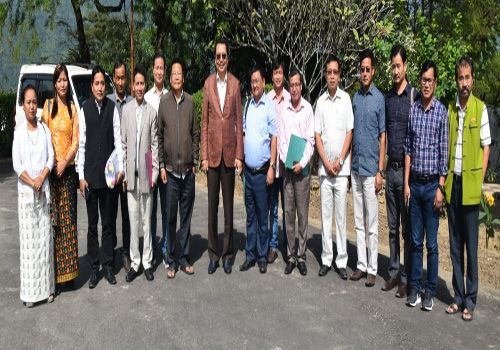 ITANAGAR, Oct 30: A delegation of the Nyishi Elite Society (NES), headed by its president Bengia Tolum, on Monday met Deputy Chief Minister Chowna Mein at his official residence here and held wide-ranging discussions on various issues confronting the community and the state.
Responding to a memorandum submitted by the NES, the DCM said he would be holding a joint meeting, involving all the authorities concerned, on the TAH compensation scam to discuss the report of the fact-finding committee submitted on 17 September.
Regarding the issue of maintenance of the Yupia-Potin stretch of the TAH, he informed that sufficient fund for the purpose has already been earmarked and the work would be executed very soon.
Responding to the spreading drug abuse among the youths, Mein assured to issue a directive to the district administration to order night patrolling in vulnerable locations, in close coordination with the civil society.
On the need for reconstruction of the government secondary school in Talo, which was devoured by fire on 7 October, the DCM assured to take up with the education minister to send an assessment team to restore the school's infrastructure at the earliest.
On the job reservation issue after the notification of the Staff Selection Board (SSB), the DCM clarified: "Even if the SSB conducts the examination, the competition would be among the domicile of that particular district, wherever there are vacancies."
Earlier, Tolum apprised the DCM of the growing sense of insecurity among the employees, particularly the officers of the community, under the present regime, and exhorted Mein to garner a sense of security for one and all.
"Selective raids by central agencies like CBI and the income tax department are a point of concern," he said.
The NES president also expressed apprehension over the long-term ramifications of the Tibetan Resettlement Policy, 2014, and opposed its implementation in the state.
The memorandum also sought establishment of a women police training college/centre in Yachuli; opening a Sainik School in Dollungmukh in Kamle district; establishing an agriculture, horticulture and forestry college at Lemi in Pakke-Kessang; and establishing an IRBn HQ-cum-PTC at Dissing-Passo in Digalmukh sector.