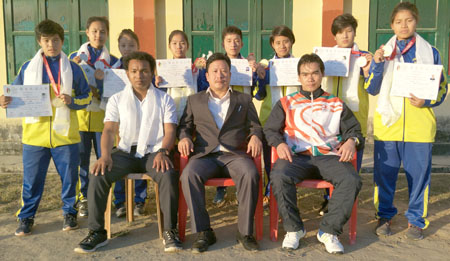 Staff Reporter
ITANAGAR, Dec 9: The Wushu players of Arunachal Pradesh brought laurels to the state by bagging the overall third position in the 17th Junior National Wushu Championship for Boys & Girls held at Namakkal, Tamil Nadu, from 1-6 December.
Arunachal bagged 8 gold, 4 silver and a bronze in the championship. Barring the bronze, all the medals were clinched by the women players.
Mercy Ngaimong bagged a gold medal each in Chanquan and Gunshu events, while Nyeman Wangsu won a gold medal each in Daoshu and Spear events.
Mepung Lamgu also won a gold medal each in Taijiquan and Taichijian.
Onilu Tega bagged a gold medal in the below 52 kg category, beating her opponent from Madhya Pradesh in the final.
The state's eighth gold medal was clinched by Taug Ama in the below 60 kg category, beating her Manipuri opponent.
Yorna Roshni bagged a silver medal each in Jianshu and Qiangshu events, while Realu Boo won a silver medal in Taichi event.
The trio of Mercy Ngaimong, Nyeman Wangsu and Yorna Roshni bagged a silver medal in the group event.
The lone bronze medal was won by Sunday Sangdo in Nandao event.
Delhi won the overall championship title with 11 gold, 4 silver and 2 bronze medals, while
Madhya Pradesh, with 8 gold, 6 silver and 1 bronze finished the runner-up.
Manipur with 4 gold, 4 silver and 6 bronze was at the fifth place on the medal table, behind Haryana (4th), who bagged 5 gold, 3 silver and 2 bronze.
Chhattisgarh, Gujarat, Karnataka, Sikkim, Nagaland and Tripura failed to win a single medal in the championship, which was participated in by 33 states.
Speaking to this daily, All Arunachal Pradesh Wushu Association (AAPWA) president Toko Teki said, "It is a great achievement that Arunachal Pradesh took the third position, leaving behind states like Manipur, which is considered the sports powerhouses of the country."
He said the young female players from Sangay Lhaden Sports Academy, Chimpu, performed exceptionally well, bagging 12 out of the 13 medals.
Teki said many participating states expressed shock over the impressive performance of the state.
He gave credit to players' hard work, persistence, and coach M Premchandra Singh and his team's efforts for the achievement.
Singh and Techi Juna were the coach and manager of the team.
The AAPWA accorded a warm reception to the triumphant team on their arrival in the state capital.