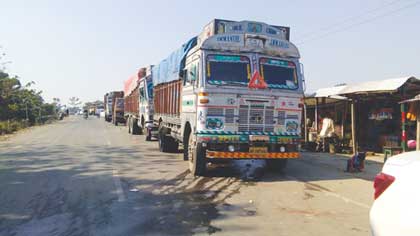 Staff Reporter
NAMSAI, Jan 20: The All Moran Students' Union (AMSU) and the AMSU-Lekang Regional Committee (LRC) have together launched an economic blockade in eastern Arunachal and Dibrugarh and Tinsukia districts of Assam, halting all commercial vehicles at the entry points, from around 6 am on Sunday.
While the AMSU is protesting against the citizenship amendment bill, the AMSU-LRC is seeking permanent resident certificates (PRC), and the two groups are supporting each other's movement.
Speaking to this daily, AMSU-LRC general secretary Manoj Kumar Moran said the economic blockade had earlier been planned to be of 100 hours' duration but now will be in place till the government gives an exact date when the long-residing non-APST people of eastern Arunachal would be granted PRCs.
"The joint high power committee (JHPC) was to submit its report in January. The chief minister and the deputy chief minister had also given their word on it. There are only 10 days left for this month to be over but we haven't received any update on the PRC," he said.
Addressing reporters at the blockade site in Dirak, AMSU-LRC president Bihudhar Moran said, "Those who settled here prior to independence are the ones seeking PRCs. We request the JHPC to take note of the national village survey of 1968 in Lekang and give PRCs to the families of those who are mentioned in that survey.
"If the government does not heed our demand, we will have to move ahead with a more vigorous movement," he said.
He informed that only oil tankers and commercial vehicles carrying goods will be stopped from crossing the gates.
"All other passenger vehicles are allowed to move freely," he said.
The AMSU and the AMSU-LRC said they will stage a motorcycle rally on Monday from the Tinsukia deputy commissioner's office in Assam to the Namsai deputy commissioner's office in Arunachal.
The economic blockade has been imposed at the entry gates in Dirak (Namsai district), Namchik and Bordumsa (Changlang), Sunpura (Lohit) and Shantipur (Lower Dibang Valley).
Sources informed that the blockade is effective in Dirak but has had low impact on the other districts.
On 14 January, the United People's Movement of Lekang (UPMoL), supported by numerous kindred organisations, had asked the state government to issue PRCs to the long-residing non-APST communities of Lower Dibang Valley, Namsai, Lohit and Changlang districts on or before 25 January or be prepared to witness an economic blockade in eastern Arunachal.