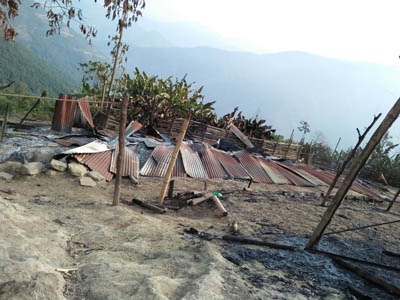 Staff Reporter
WESHI, Jan 30: Two houses were gutted in a ravaging fire here at Weshi village under Pakoti circle of East Kameng district on Monday evening, while one house was partially damaged.
Reportedly, the fire broke out around 5 PM when the home owners were preparing animal feed with firewood. The wind scattered the sparks and spread quickly and intensified in a short while.
On being alerted by neighbours, the villagers rushed to the spot, but were unable to save the two houses from the inferno.
However, the villagers managed to save the third house partially from the fire.
Responding swiftly to the news, local MLA Mama Natung provided CGI sheets and some cash to the fire victims.
Expressing solidarity with the fire victims, Natung also suggested the villagers to stay cautious and vigilant during dry and windy season.
"Combustible materials should be kept away from the fire, especially in windy and dry season," the local MLA said.
Meanwhile, Circle Officer Pooja Sonam Notung informed the district administration has initiated work to provide relief to the fire victims as per prescribed provisions of the government.
"The report has been sent to concerned authority for relief," the circle officer added.