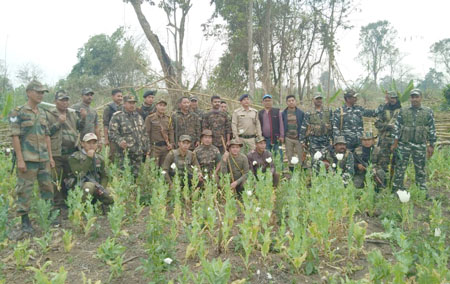 [ Indrajit Tingwa ]
MIAO, Jan 30: About two hectares of poppy field have been destroyed by the Miao unit police along with the local administration on Wednesday morning.
Acting on a tip off received by the Changlang Superintendent of Police, Miao SDPO Tashi Darang constituted a team comprising of Miao Police Station OC, Inspector Ege Ete, SI J Aran, personnel from civil police, IRBN and CRPF and started the operation to destroy the poppy field located between Old Champu and Namphai-II villages about ten kilometers from Miao police station at 7 am in the morning.
ADC Miao Tage Rumi also accompanied the team.
SDPO Darang lamented that various cases under the NDPS Act are registered in different police stations under Miao sub-division.
Brown sugar, opium and other illegal drugs peddling incidents have been on the rise in the area as the region shares international border with Myanmar with deep jungles and porous border made for easy penetration of illicit drugs.
Reports are also there about the smuggling of such drugs from neighbouring state of Assam.
However, he added that police with the support and cooperation from civil administration has been able to adopt zero tolerance towards illegal drugs related activities in the district.