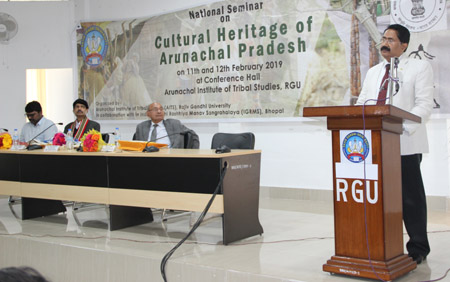 RONO HILLS, Feb 11: A two-day seminar themed 'Cultural heritage of Arunachal Pradesh', being organised by the Arunachal Institute of Tribal Studies of Rajiv Gandhi University (RGU), got underway here on Monday.
Organised in collaboration with the Indira Gandhi Rashtriya Manav Sangrahalaya (IGRMS) and Bhopal-based National Museum of Mankind, the seminar is aimed at providing an open forum for discussions on essential cultural issues relating to the state.
The inaugural session saw the attendance of RGU Vice Chancellor Prof Saket Kushwaha, IGRMS Director Prof SK Chaudhuri, former dean of the NEHU's School of Social Sciences, Prof AC Sinha, and faculty members and scholars of various disciplines from within and outside the state.
After Prof Sinha presented the keynote address on 'Arunachal Pradesh: Some issues pertaining to pre-history, history, society, and polity', the VC in his address highlighted the importance of the tangible and intangible cultural heritage of the country, and
urged the youths to document the rich traditions that the state and country have to offer.
"It is only through the younger generations that the elements of cultural heritage are passed on and preserved," Prof Kushwaha said.
Research articles and papers ranging from theoretical discussions to ethnographic presentations on different dimensions of cultural heritage were presented by the participants and discussed.