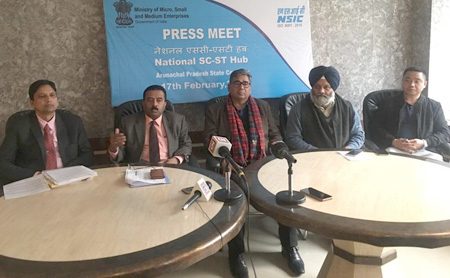 Staff Reporter
ITANAGAR, Feb 17: The National SC-ST Hub (NSSH) is organising the NSSH State Conclave-Arunachal Pradesh at the legislative assembly here on 18 February to bring together central public sector enterprises (CPSE), industry associations and the state government on a common platform to deliberate on fulfilling the public procurement policy (PPP) mandate for SC-ST entrepreneurs.
This will be the NSSH's 38th conclave in the country, and the first in Arunachal Pradesh.
Addressing reporters at the legislative assembly on Sunday, National Small Scale Industries Director (Marketing & Planning) P Uday Kumar presented a brief on the initiatives of the micro, small & medium enterprises (MSME) ministry, which he said aims to create an inclusive economic growth among MSMEs, especially the SC and ST units.
The ministry, he said, also envisions creating a supportive ecosystem for SC and ST entrepreneurs by assisting them in capacity building and enabling them to effectively participate in the PPP.
The Centre's PPP, 2012, calls for mandatory procurement of goods and services by central ministries, departments and CPSEs from micro & small enterprises (MSE), and to make 25 percent of such procurement (4% in total) from SC and ST owned MSEs, Kumar informed.
However, he said, there were insufficient entrepreneurs from the SC/ST category to supply goods and services to government and public sectors, and that there is a need to identify SC/ST entrepreneurs and units to achieve the four percent procurement target.
Kumar informed that the SC and ST procurement was earlier as low as 0.02 percent, but has now increased to 0.06 percent.
"The idea is to identify the unknown SC/ST units across the Northeast states and create awareness that there is an opportunity for the SC/ST entrepreneurs to supply products and services to the government. We also want to provide information on the interventions started by the government, like high-level trainings and schemes, and in turn learn about the deficiencies. Potential entrepreneurs can start entrepreneurship as their livelihood instead of endlessly trying for employment, and start their own units," Kumar said.
The director also informed that they are urging financial institutions and state governments to provide necessary financial and hand-holding support, so that entrepreneurs do not find difficulties.
About six banks are also participating in the conclave.
Kumar invited entrepreneurs, banks, public sector undertakings and state government agencies to be a part of the conclave.
Noting that procurement from ST/SC units is currently considerably low, Dr Ambedkar Chamber of Commerce director Gen Inder Iqbal Singh Atwal said the conclave "is a means to facilitate local entrepreneurs and help different levels of entrepreneurs reach their goals."
National Small Industries Corporation's (NE) Zonal General Manager Dr Avinash Choudhary and Food Processing Ministry Joint Secretary Ashok Kumar spoke on the importance of the conclave and how it could help local entrepreneurs own their own businesses instead of relying on others for goods and services.
About 400 entrepreneurs from the state, including agriculturists and horticulturists, are expected to participate in the conclave on Monday.