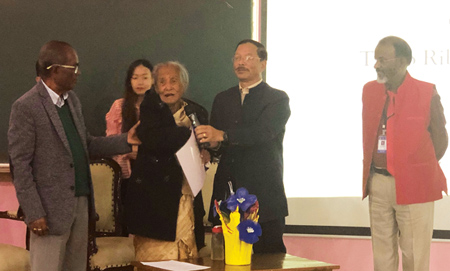 Minoti Riba pledges to donate her body to TRIHMS
NAHARLAGUN, Feb 17: Eighty-year-old Minoti Riba, wife of former chief minister Tomo Riba, pledged to donate her mortal remains on her death to the anatomy laboratory of the Tomo Riba Institute of Health & Medical Sciences (TRIHMS) here during a dedication programme organised by the institute on Saturday to commemorate the 19th death anniversary of the former CM, whose name the institute bears.
Minoti submitted the documents related to the donation to TRIHMS Anatomy Head Dr NK Bezbaruah, who accepted the donation on behalf of the department.
"The most important thing in life is to be of help to each other, and it makes me happy that I will be a source of knowledge to the students," Minoti said.
"It was not just a dream of my husband but the whole state to get a medical college. The dreams have been fulfilled by the TRIHMS, and I cannot express the gratitude I have for the state government for naming the institute after my late husband, who had such deep attachment with the hospital," she said.
Minoti, who is a former cooperator, interacted with the students and enthralled them and the faculty members with her anecdotes.
To share with the students of the institute the ideologies and the vision of the leader whose name the institute bears, a Tomo Riba memorial display was dedicated at the library of the institute.
During the programme, TRIHMS Director Dr Moji Jini narrated the journey of the hospital from being a small dispensary in the early 1970s to its present standing as a reputed institute.
Dr KK Dey, a retired surgeon who had served at the hospital for the greater part of its history, narrated his real-life experiences and the hardships and the joys that he experienced while serving the patients of the state.
This was followed by the presentation of a biographical note on Tomo Riba.
TRIHMS Dean Dr P Jayakumar narrated how he had to go to Kolkata to find a cadaver for the first batch of students of the TRIHMS. He said Minoti's act "should be a source of inspiration for others to take this step."
Students and faculty members, including associate professors, Drs Devender Sachdeva and K Praveen, also spoke.