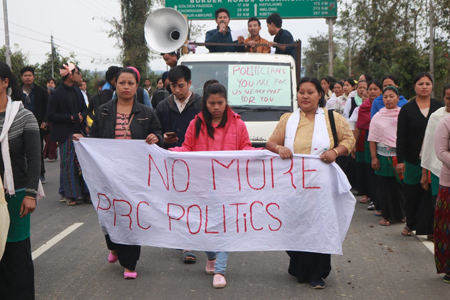 PRC issue
Staff Reporter
NAMSAI, Feb 18: The Tai Khampti Singpho Council, the All Tai Khampti Singpho Students' Union (ATKSSU), the All Namsai District Students' Union (ANDSU), the Chongkham Area Youth Area Welfare Society, and the Women Welfare Society Namsai took out a rally from the Poi Pee Mau ground to the DC's office here on Monday, demanding rollback of the joint high power committee's (JHPC) draft report and recommendations on issuing permanent resident certificates (PRC) to the non-APSTs of Namsai and Changlang districts.
The organisations also staged protests outside Deputy CM Chowna Mein and Namsai MLA Chow Zingnu Namchoom's residences.
They have submitted a letter to the chief secretary, stating that "the JHPC decided to submit the report in a hurry and inflicted more doubts on the integrity of the committee under cabinet minister Nabam Rebia," and demanded its rollback.
Saying that the modalities recommended for issuing PRCs to non-APSTs were "totally unacceptable," the organisations said the report should not be raised in the upcoming assembly session "without proper discussion and further research."
They said the JHPC's recommendations on issuing PRCs to non-APSTs are
"not safe and hurts the sentiments of the indigenous tribes by disrupting the Bengal Eastern Frontier Regulation Act of 1873."
Demanding resignation of the present JHPC chairman, the Namsai-based organisations claimed that the legality of the JHPC draft report and recommendations "have not been approved by the appropriate authority."
ATKSSSU president Chow Kohana Chaupoo said the recommendations should not be tabled in the assembly.
Saying that "all the harassment and communal disharmony that occurred due to the issue should not be repeated in the future," he sought a written assurance from the district administration, saying that protests would otherwise continue in the district.
ANDSU president Jaylai Manlai called on the All Arunachal Pradesh Students' Union to make its stand clear and support its federal units in opposing the tabling of the JHPC report in the assembly "as it does not safeguard the rights of the indigenous people of the districts."
Meanwhile, organisations from Namsai, Lekang and Changlang districts seeking PRCs said they would stage a 'mass rally-cum-meeting from the Mahadevpur general ground to the Dirak gate' on Tuesday, demanding re-issuance of PRCs before the commencement of the upcoming assembly session.
Earlier on Monday, BJP state president Tapir Gao had met with the non-APST organisations seeking PRCs and had asked them to refrain from resorting to any form of democratic movement as the matter is soon going to be discussed in the assembly.