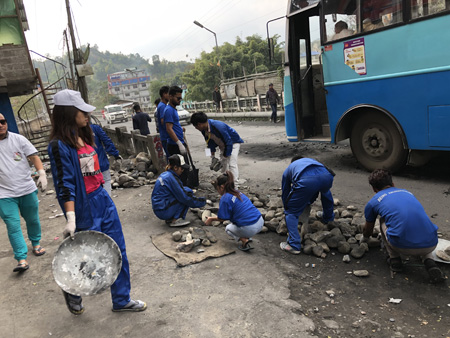 ITANAGAR, Feb 27: Members of NGO Being Arunachalee (BA) conducted social service in places like Nirjuli, Doimukh, Yupia and Naharlagun on Wednesday to clear the national highway of various blockade materials dumped by protestors during the anti-PRC agitation.
The volunteers cleared the highway of debris such as stones and parts of damaged vehicles.
Speaking to the media, BA chairman Ringu Kuku said the materials that had been left
on the highway had become "life-threatening to the road users," and therefore the NGO undertook the social service to clear them.
Kuku appealed to the people of the capital complex to maintain peace and communal harmony in the better interest of the state.
"We have achieved the motive of scrapping the PRC issue altogether. But it came at the cost of three precious lives and injury to many others. Also, several innocent people lost properties worth lakhs of rupees in this agitation. Everyone is pained over this whole issue. Now the healing process should start. Let peace be given a chance," Kuku said.
He also urged the people to stop spreading rumours and seek to create an atmosphere conducive to the return of normalcy in the capital.