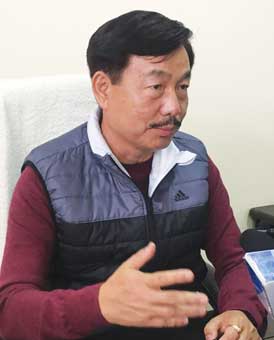 Staff Reporter
ITANAGAR, Mar 19: State BJP president Tapir Gao on Tuesday nullified speculations of his being involved in any sort of "sex scandal," and said he was a victim of "blackmail."
Gao's clarification came days after a sexually explicit video was seen doing the rounds on various social media platforms. There were speculations that the man engaging in a sexual act with an unidentified woman in the video was Gao.
Reacting to the conjectures that it was him in the video, Gao said he was a victim of "blackmail by some unscrupulous persons from Tezu."
While he claimed to know the persons involved in making the video, and that they are from the BJP, he did not divulge their names.
Gao said those men had approached him first on 27 January, handed him a copy of the video in a pen drive, and demanded Rs 15 crore from him. They had also threatened that they would use the video to tarnish his image if he did not heed to their demands, he said.
Gao said he refused to pay the amount as he "neither had that kind of money" nor was it him in the video.
According to Gao, the blackmailers then asked him to give up his candidature as MP from the Arunachal East parliamentary constituency.
He said that when he refused to budge, the blackmailers reduced the amount to Rs 10 crore.
"In March this year," Gao claimed, "the men again demanded Rs 5 crore to stop the video from leaking onto public domain."
He said he did not complain earlier as they were known to him and he did not think much of the threats.
"I thought they would not go to such an extent, and did not give much heed because they were our own. However, when the video went viral on social media platforms, I had to make a report to the police."
Gao further claimed that the accused are professionals, and that they repeat such stunts every election to extort money from leaders.
"They have done similar acts twice earlier. While they are from our party, they could also have been set up by the opposition," Gao said.
He informed that he has lodged a complaint with the police in Itanagar and Tezu, and that an FIR was lodged against the culprits on 14 March. The SIT here has also been informed, Gao said.
"The culprits are allegedly absconding and taking refuge in Delhi," he added.
Maintaining that it was not him in the video but probably someone who resembled him, Gao also said he did not know who the woman in the video was.
He requested the police to apprehend the accused immediately and book them.
"They should be brought before the public for their malicious attempts at tarnishing my image," he added.
Our correspondent adds: Meanwhile, Gao's wife, Dui Padung Gao, has also denied her husband's presence in the video.
"It is nothing but a political conspiracy hatched against my husband to malign his clean image," Dui said.
She claimed that some opponents were involved in hatching the conspiracy against her husband for political gain.
Dui, a lecturer at the District Institute for Educational Training, Pasighat, said she believes the circulation of the "fake video" would not serve the desired purpose.