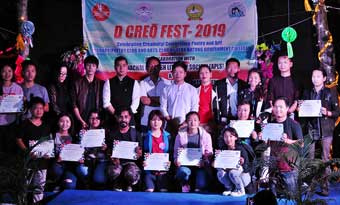 ITANAGAR, Mar 26: The Literary and Arts Club of Dera Natung Government College (DNGC), in collaboration with the Arunachal Pradesh Literary Society (APLS) and the Arunachal Akademi of Fine Arts (AAFA), organised the first edition of the inter-college 'D CREO Fest' in the college premises.
The two-day festival witnessed participation of 10 colleges of the capital complex.
On the first day, APLS president YD Thongchi apprised the students of the importance of literature and its role in preservation of tradition. He enlightened the participants regarding the scope of poetry and its far-reaching impact on society.
On the second day, a 'painting exhibition-cum-workshop on collage making and emerging trends in arts' was organized.
Prominent artists from the AAFA also shared their knowledge.