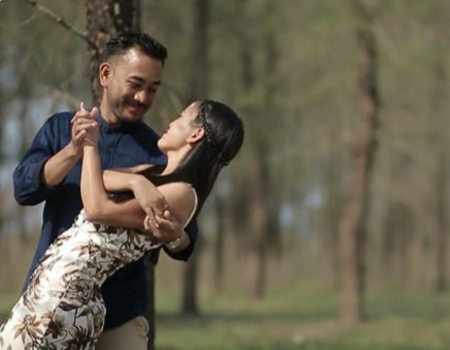 Correspondent
JAIRAMPUR, Apr 18: The first music video in the dialect of the Tikhak, a sub-tribe of the Tangsa, Ruunn Mu (roughly translated as From the Heart) was premiered at Terit Nagar here in Changlang district on Wednesday.
The romantic music video was simultaneously premiered live on YouTube.
BJP leader Laisam Simai, who attended the premiere, expressed happiness at the inclination of the youths towards the creative field.
"As of now, our involvement in the cinematic universe is nonexistent, and I hope this maiden music video will inspire the talented folks to come forward with their virtual and musical masterpieces," Simai said.
"We started our tiny step in this industry with an audio album some 10 years back; now the first video album has come out, and I will not be surprised if we end up making a full-length movie in the local dialects," he said, adding that "no task is impossible, provided we try till the end."
The audio version of Ruunn Mu had been released in 2011. At the time of releasing the audio album, the producer/singer, Nobinkam Tikhak, had divulged his willingness to create a video album also.
"It took me eight years to finally realize my dream. I was able to accomplish it due to the all-round support of my community," said Tikhak, who also directed the video album.
Presented by Ko-Hon-Tai Production Pvt Ltd, Ruunn Mu is financed by Nobinkam Tikhak, Tangyan Simai and Chimoy Simai.
The members of the Tikhak sub-tribe have collectively expressed gratitude to Arif Siddiqui and Suktana Enling for their contributions in shooting and promoting the video album.