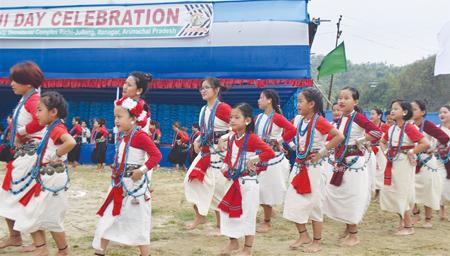 RICHI JOLLANG, Apr 19: A large gathering of members of the Nyishi community of Arunachal Pradesh celebrated the 12th Nyishi Day with great fervour at the Nyishi Elite Society's (NES) secretariat office here on Friday.
Nyishi Day is celebrated to commemorate the historic constitutional amendment replacing the exonym 'Dafla' with the original name, Nyishi.
After a decade of struggle by the seniors of the NES and the Nyishi community as a whole, the word 'Dafla', which was considered alien and derogatory, was removed by amending the Constitution (Schedule Tribes) Order, 1950, modifying the list of STs by an act – the Constitution (ST) Amendment Act, 2008, under Part XVIII – relating to the state of Arunachal Pradesh.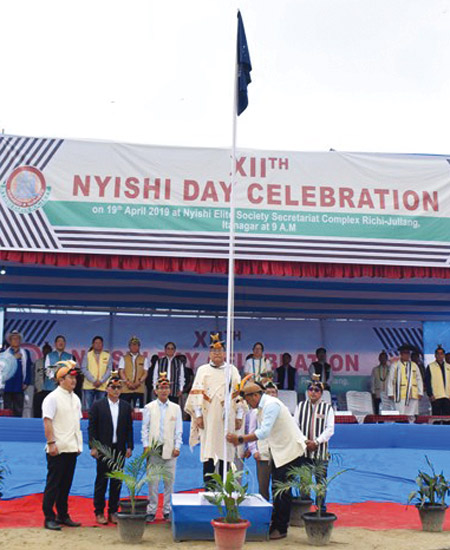 Under Entry 4, the original name, Nyishi, was inserted in place of the earlier Dafla, and passed by both the houses of parliament on 19 March, 2008. It received presidential assent on 1 April of the same year.
Addressing the participants here, former chief minister Nabam Tuki lauded the efforts made by the seniors of the community to eradicate the word 'Dafla', which was considered derogatory.
He asked his fellow men and women of the community to "stay strong and united for any kind of problems to be faced in future too."
"Like we eradicated the derogatory word, we have to fight for all-round development of the community and the youths in terms of education, employment, livelihood and other basic needs," he said.
NES president Bengia Tolum sought support from the community for the betterment and development of the society, and urged them to preserve the age-old traditions, culture, dialects and practices of the Nyishi community.
Tolum also requested the NES' executive members to spread amity among one another, irrespective of the districts and areas they belong to.
"We as Arunachalees first should eradicate the feeling of jealousy and differences among other tribes too. We should respect the traditions and cultures of other communities, and at the same time should do the same to our own," he said.
Tolum said election is the time when most of the reports of brawls are reported from the Nyishi community, which he said should be eradicated from the roots.
"We should continue the motto of 'clean election' initiated by the NES and say no to money culture in choosing their representatives, for the betterment of own constituencies and the future of our next generation," Tolum said.
"Until and unless we bring the feeling of oneness in the community, we can never achieve the goal of true brotherhood. Thus, we should encourage and support the future youths of the community to be sincere towards their education or any other field in life.
"These youths are the future of our community, and they need proper guidance today, so that they can do the same tomorrow for the betterment of our society and the state as a whole," Tolum said.