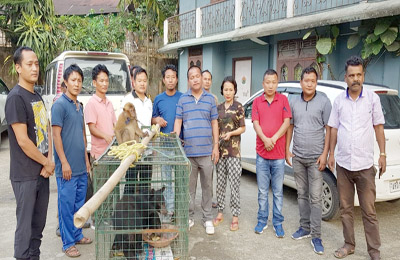 ITANAGAR, Apr 23: Former president of the All Nyishi Youth Association, Bamang Taji, who recently rescued two bears (a male and a female) and a monkey from Yachuli in Lower Subansiri district and Sagalee in Papum Pare district, handed over the animals to the biological park here on Monday.
Taji rescued the animals from the clutches of hunters.
The sibling bears, named Buddu (male) and Maya (female), and the monkey, a rhesus macaque named Rima, were taken proper care of by Taji, who ensured that they received proper food and medication.
The biological park's curator, Raya Flago, who received the animals, thanked Taji on behalf of the environment & forests department.
"We hope and request him to continue his noble mission of saving endangered animals," Flago said.