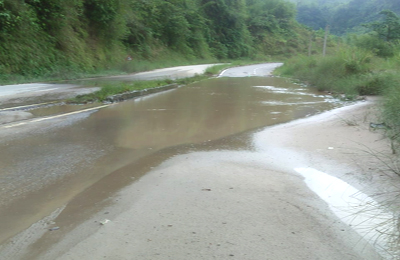 Staff Reporter
ITANAGAR, May 3: With the onset of rainy days, the condition of the Itanagar-Hollongi four-lane road is fast deteriorating.
The road was inaugurated by Union Road Transport & Highways Minister Nitin Gadkari on 14 January, 2017, during his visit to the state capital. However, since then the condition of the highway has deteriorated, and no maintenance has been carried out by the PWD highways department.
On several stretches, portions of the road have crumbled, and a few portions are on the verge of crumbling. The earth-cutting activities being carried out along the road are also not helping the situation any.
Due to the crumbling of portions of the road, on some stretches the four-lane road has been reduced to a single-lane road. Even though for the last two-and-a-half years the condition of the Itanagar-Hollongi road has been going from bad to worse, the state government, particularly the PWD highways department, never bothered to repair it.
When this daily contacted officers of PWD highways, starting from the capital division executive engineer to the superintendent of engineers and the chief engineer, none of them was willing to speak on record regarding the reasons for not repairing the highway.
However, an official of the PWD informed on condition of anonymity that the TK Engineering Consortium, which is executing the Itanagar-Hollongi road construction work, has written to the
ministry of road transport & highways (MoRTH), urging it to revise the company's contract, but the ministry is yet to give its approval.
"TK Engineering is awaiting the ministry's approval, and since the issue is pending, the maintenance of the road has suffered. The department is aware of the problems being faced by the denizens of the capital and has time and again repaired some of the potholes, despite the fact that the repairs should have been done by the executing agency, in order to keep the road motorable," said another PWD official.
"It is really upto the MoRTH. Only the ministry can decide if it wants TK Engineering to continue its work or let the PWD take over. Repairing of the Itanagar-Hollongi road has really become a nagging issue which needs to be addressed soon," said another PWD official.
It is strange, considering the fact that the road was inaugurated in 2017 but is yet to be officially handed over, due to which repair work is not being carried out.