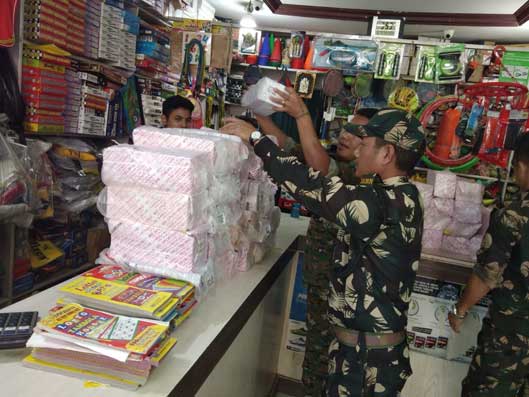 ITANAGAR, May 16: The capital police along with the district transport officer (DTO) conducted motor vehicles' checking at Lekhi and Yupia junctions on Thursday, and booked 186 vehicles during the course of the checking.
Tinted glasses were removed from 100 vehicles.
"Rs 47,700 were realized after fines were imposed on defaulting drivers/riders," said Capital SP Tumme Amo.
Capital Complex DC Himanshu Gupta stressed that the administration has "zero tolerance against such nuisance and violators of traffic rules."
He requested the residents of the capital to abide by the traffic rules and regulations "as it requires a collaborative effort from everyone to get rid of such nuisance."
DTO C Wangsu informed that the drive would continue in the days to come. He said the DC has banned the plying of heavy vehicles – except school buses and IMC garbage trucks – between Naharlagun and Itanagar, on both NH 415 and the Jollang road, from 8 am to 6 pm, besides banning parking of heavy motor vehicles along the highway within Itanagar and Naharlagun.
Meanwhile, 16 suspected gambling places along with nine shops selling housie tickets were raided by the police.
Three mobile phone sets, two mini-speakers and 1332 housie books were seized by the police during the drive. The SP informed that the checking will continue in the coming days, too.
Itanagar EAC Hengo Basar is also conducting checking of gambling activities, including housie played on mobile phones, in various suspected areas of Itanagar.