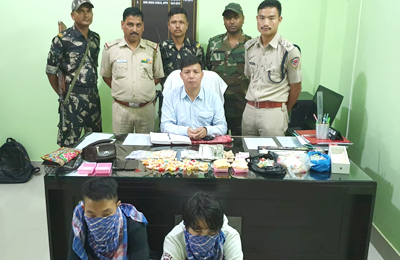 Staff Reporter
ITANAGAR, May 18: The capital police have busted a drug racket after arresting two men, identified as Sosar Punung (21) and Bengia Rigia (20), on Saturday afternoon from different parts of the capital.
Punung was arrested from the official residence of former minister Takam Pario in Vivek Vihar, while Rigia, who is the son of People's Party of Arunachal president Kahfa Bengia, was apprehended from his residence in Mowb-II, informed SP Tumme Amo in a press briefing here in the evening.
Punung is reportedly Pario's brother-in-law.
"Two packets of heroin, worth Rs 3 lakhs in the market, along with 28 large tubes and 42 small tubes (containers) of the same drug were recovered from the duo, along with cash of Rs 61,170 and two mobile phones," said Amo.
Acting on a tip-off from a source, a police team comprising Amo, SDPO D Gumja, ASI Jha and others conducted a raid at Pario's residence in Vivek Vihar and apprehended Punung, and later picked up Rigia from his home in Mowb-II.
"They both are students of Don Bosco College, and have been selling drugs to customers. The target consumers are probably teenagers," the SP said.
"We earlier caught some drug users, who were the duo's customers, and it was through them that we zeroed in on the duo. We are also investigating other sources, like in Assam. We are told they brought the drugs from Shillong," Amo said.