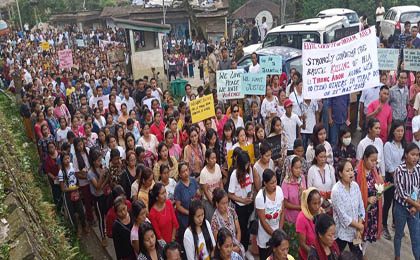 KHONSA, May 29: Hundreds of people, from all walks of life took part in a mass rally here on Wednesday to protest the 21 May massacre in which 11 people including Khonsa west MLA Tirong Aboh were killed.
The rally which was organized by the All Tirap District Students Union (ATDSU) covered the entire bazaar area.
On the occasion ATDSU submitted a memorandum to the Deputy Commissioner, Tirap appealing to the centre and state governments to deliver justice without further delay. The bereaved families and relatives also joined the rally.
The protestors raised slogan seeking justice for those killed in the gruesome murder. Aboh and ten others were allegedly murdered by the suspected NSCN militants.