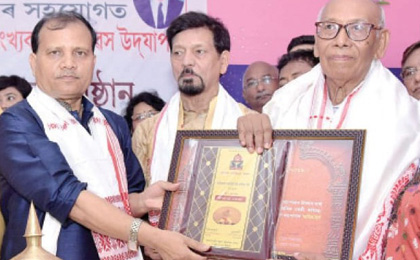 TEZPUR, Jun 2: Former Asom Sahitya Sabha (ASS) president and noted literary figure from the Northeast, Rongbong Terang, was conferred the prestigious Sahitya Surjya Lummer Dai Award-2019 in a function held at Lummer Dai Bhavan here in Assam on Saturday.
The award, instituted by the ASS, was presented by its president Paramananda Rajbongshi in commemoration of the 79th birth anniversary of the literary icon from Arunachal Pradesh, Lummer Dai.
Terang said he was overwhelmed by the award conferred on him in memory of a towering personality like Dai.
Expressing his gratitude to the ASS, he said it was not simply an award for him but a "noble mechanism initiated by the ASS to bridge the gap between
the people of Karbi Anglong in Assam and Arunachal Pradesh, and thereby strengthening the ethnic-fabric equation among different communities living in the region."
Terong urged the ASS to keep the contributions of Lummer Dai alive through such programmes.
He gifted traditional Karbi attires to Lummer Dai's son, Mibom Dai, and other dignitaries accompanying him, as a symbol of love and integration.
Earlier, the function started with paying of homage to Dai by Mibom.
The open session was inaugurated by local MLA Brindaban Goswami and attended by, among others, Arunachal Pradesh Literary Society vice president Tokong Pertin and Sonitpur DC Narshing Powar.