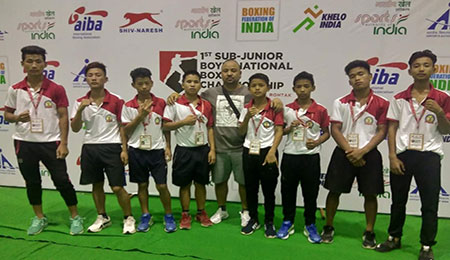 3 Arunachal pugilists progress into 2nd round
ITANAGAR, Jul 2: Three boxers from Arunachal Pradesh on Tuesday progressed into the second round of the first National Sub-Junior Boys Boxing Championship being held at Rohtak, Haryana.
Those who have won their first round bouts are Kino Ramling, Ito Ado and Tyson Natung.
While Ramling won his bout against Bankhmihlang Lyngdoh of Meghalaya 5-0 in the 33 to 35 kg bodyweight category, Ado was declared winner after the referee stopped the contest in the second round. His opponent was Wanlambok Shynret of Meghalaya.
Natung won also won his bout against Narayan Jean of Odisha on RSC (referee stopped the match) method in the very first round.
Lukum Kamda lost 2-3 to Sunil Kumar of Rajasthan in the 35-37 kg bodyweight category.
Arunachal has fielded nine boxers in the championship.