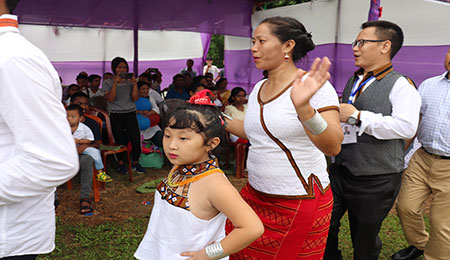 [ Pisi Zauing ]
MIAO, Jul 6: The Apatani community celebrated the Dree festival with much fanfare and gaiety at the Donyi Polo ground here in Changlang district on Friday.
Congratulating the Apatani community on the occasion of Dree festival, Diyun-Bordumsa MLA Somlung Mossang emphasized on preservation of one's mother tongue, maintenance of communal harmony and protection of forest and wildlife.
"Since our tribal festivals are directly connected with nature, it is our prime responsibility to stop poaching, killing of birds, deforestation, and take up plantation of trees on war footing," Mossang said.
Lauding the Apatani community for celebrating Dree every year despite meagre population, he said 'We have lots to learn; it is an inspiration for all of us.'
Rev Bishop Dr Palliparambil, in his speech, felt the urgent need to have 'knowhow about one's origin to secure the future.' He advised young generation to opt for subjects like anthropology to study and ascertain their roots, rather than depending on oral history.
The Dree Festival Celebration Committee chairman, Er Tage Nipa, (EE PHED) also spoke on the occasion.
Earlier, the festival began with hoisting of Dree flag followed by Daminda folk dance and songs in the morning.
The Apatani community has been celebrating its festival here without fail since 1998.
Besides the members of the Apatani community, a host of government's officers and public leaders attended the celebration.