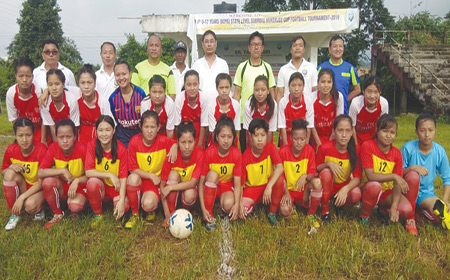 ITANAGAR, Jul 21: GSS Pachin (Capital Complex) earned a hard-fought 1-0 victory over reigning champion GHSS Doimukh (Papum Pare), and entered the semifinals of the state level Subroto Cup (U-17) football tournament in the girls' category.
The all-important goal was scored by Tadar Marmi.
All the four quarterfinal matches were played at the DNGC playground here on Sunday.
The other three semifinalists are GHSS Yingkiong (Upper Siang), Dani Kunia GHSS, Ziro (Lower Subansiri) and GHSS Boleng (Siang).
GHSS Yingkiong (Upper Siang) defeated GSS Motum (East Siang) 2-0 in the first quarterfinal to become the first team to reach the semifinals. The scorers were Kar Libang and Iling Pertin.
Dani Kunia GHSS (Lower Subansiri) beat GHSS Palin (Kra Daadi) 2-0 in the third quarterfinal. Tamo Kunia scored both the goals for the winning team.
GHSS Nari (Lower Siang) went down fighting 0-1 to GHSS Boleng (Siang) in the last quarterfinal.
Osinam Jamoh scored the winning goal for GHSS Boleng.
The semifinals will be played on the same playground on Monday.
The first semifinal will be played between GHSS Yingkiong and Dani Kunia GHSS at 7 am, and the second match, between GSS Pachin and GHSS Boleng, at 2 pm.
The final will be played on Tuesday.