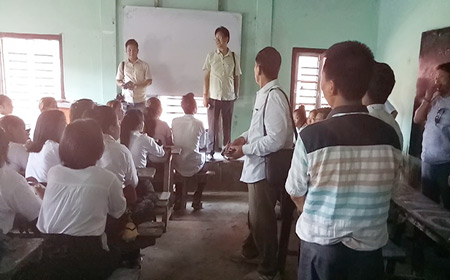 Correspondent
DAPORIJO, Jul 29: Local MLA Taniya Soki recently inspected all the schools in Upper Subansiri district that have poor infrastructure and are in various stages of dilapidation.
During his visit to the government higher secondary school (GHSS) here, the MLA interacted with the students and learned about their grievances pertaining to academics and shortage of infrastructure.
The students informed the MLA that although they have apprised the principal and the DDSE several times of the issues, their grievances are yet to be addressed.
Soki learned that one of the main reasons for most of the students not attending classes is the absence of subject teachers. He was informed that the GHSS also does not have girls' washroom and drinking water facility.
The MLA on his part said "it is the responsibility of the students to maintain and look after the buildings and school property," and added that ensuring cleanliness in the school campus and the town "is (also) the duty and responsibility of students."
DDSE Tape Jeram, who along with the school's principal accompanied the MLA, apprised the latter of the shortage of infrastructure and subject teachers at the school.