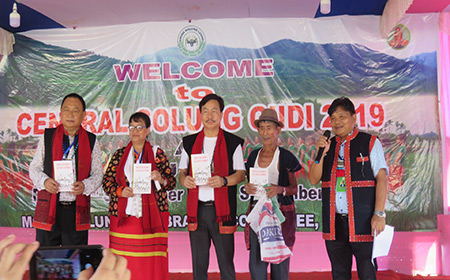 Ering exhorts youths to take responsibility
Correspondent
RUKSIN, Sep 13: Pasighat West MLA Ninong Ering exhorted the youths of the state to shoulder the responsibility of preserving the cultures and traditions of the ethnic communities.
Attending the inaugural function of the central Solung festival celebration here in East Siang district on Thursday, Ering said "traditional culture is above religious practices, and the member of every community, irrespective of sex and religion, should participate in such festivals."
Stating that festivals are a good medium for exchanging ideas, sharing happiness, and creating better understanding among different groups of people, Ering appealed to the leaders of the Adi community to showcase their rich cultural heritage to the people of other communities.
Renowned woman activist Aini Taloh urged the youths to serve the society through voluntary activities.
Taloh, who runs NGO AYANG, which is dedicated to the task of voluntary blood donation, urged parents to guide their children on the right path and motivate them to work for the welfare of the society.
Celebration committee president Omir Tatin appealed to the community members to take active part in different occasions of the four-day celebration to make it a grand success, while teacher Tanyo Tapak highlighted the significance of the Solung mythology, with special reference to aabang (priest song).
A book titled Keyum Kero Agom Gomku, written by Tagom Tabi Galing, was released by the invited guest on the occasion.
Arunachal East MP Tapir Gao, Ruksin ADC Kabit Apang, senior public leader Tamat Jonnom, former Ruksin ZPM Tonggeng Panyang, and a host of government officials and local businessmen attended the inaugural function.