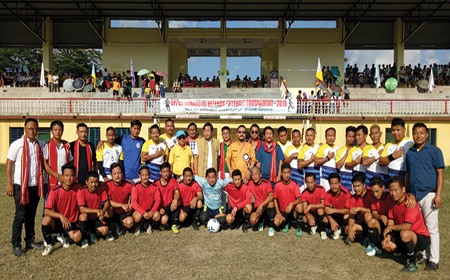 [ Karda Natam ]
DAPORIJO, Oct 8: Hooligan FC defeated Fai Fai FC 5-3 via a penalty shot in the final match of the Veteran Football Tournament held here in Upper Subansiri district recently.
Earlier, both teams were drawn 1-1 till full time.
Fai Fai FC's Kiania Rigia was given the highest scorer award for scoring 13 goals in the tournament, while Suraj Maying of the same team was adjudged the best player of the tournament.
Hooligan FC's Bai Mara and Ringde Nilling were adjudged the best goalkeeper and the best defender, respectively.
Earlier, former MLA Dikto Yekar urged the players to play with team spirit, and urged the youths to uphold the concept of a fit India.