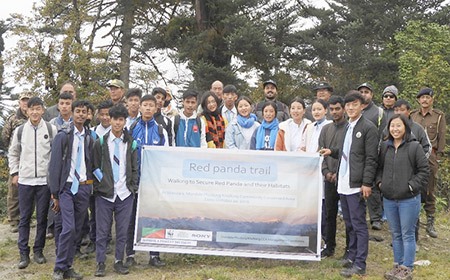 DIRANG, Oct 11: The Divisional Forest Officer (DFO) of West Kameng HQ Bomdila, C Loma, urged stakeholders to make conscious efforts towards protecting wildlife and their habitats.
"Natural resources, including wildlife, are the great heritage of the state and we must recognize and acknowledge their presence and values," Loma said during a workshop on wildlife conservation held here as part of the Wildlife Week celebration recently.
The celebration had begun with a 'Red panda trail walk' to Mandala, where students from Dirang, forest officials, and members of the WWF-India witnessed the rich habitats of the red panda and other high-altitude fauna.
The walk was aimed at creating awareness and conservation consciousness among the youths of the region.
"It is important to venture out and explore nature. This is a great learning tool and experience that teaches you a lesson of life," the DFO said.
Sange Monpa of Chander and Tsering Pema of Thembang spoke on the cultural richness and the relation between the people and the wildlife of the region.
The participants started the walk from 8 Kilo area in Mandala, and passed through temperate and rhododendron forests. It is one of the prime red panda habitats, covered with Abies spp, Sorbus, Rhododendron spp, and bamboo undergrowth, a release from the Bomdila divisional forest office said.
A large part of the forests falls under the jurisdiction of Mandala-Phudung village, and is governed by the traditional village institutions.
Recently, the community decided to declare these forests as a community conserved area (CCA), with technical support from the WWF-India, for developing long-term conservation strategies for the forests and the wildlife there. "The decentralized approach of the CCA helps the local community in bringing strong institutional support and convergence for conservation and livelihood initiatives," the release said.
These forests are home to some of the endangered species, including the red panda, the snow leopard, the takin and pheasants, besides to medicinal plants.
The celebration brought together various stakeholders, who spoke on the rich diversity of natural resources and the culture of the Monpas.
"Such events could bring about monumental changes among the minds of the youths. More than two-thirds of the forests remain under the custodianship of the local community and traditional institutions, and are governed by their customary laws," the release said.
The Bomdila forest division and the WWF-India in collaboration with the Mandala Phudung Khellong CCA Management Committee celebrated the Wildlife Week in Mandala and Dirang between 5 and 10 October.