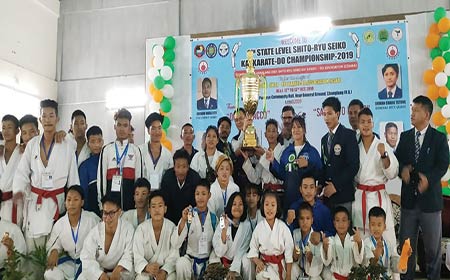 CHANGLANG, Oct 13: Kra Daadi emerged overall champion with 14 gold, nine silver and equal numbers of bronze medals at the 8th State Level Shito-Ryu Seiko Kai Karate Championship, which concluded here on Sunday.
Jully Club (Jullang) bagged nine gold, eight silver and three bronze medals to finish runners up. Anjaw were the second runners up with nine gold, six silver and eight bronze medals.
Commandant, 9 Assam Rifles, Col Surinder Kumar and Changlang SP Mihin Gumbo attended the closing function. Later, both Kumar and Gumbo distributed prizes to the winners.
Around 250 karatekas from various districts participated in the two-day event, which was organized under the aegis of the Arunachal Shito-Ryu Karate Association.