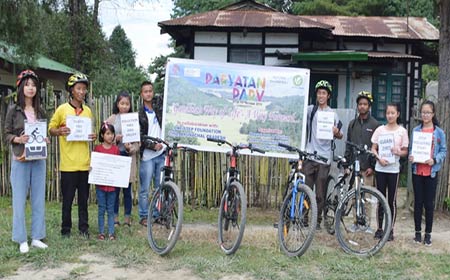 ZIRO, Oct 15: Marking the end of the Arunachal leg of the Paryatan Parv, participants from all walks of life attended a programme on 'Gandhian Way of life," conducted here on Sunday at the Kasturba Gandhi Gram Seva Kendra, Hanoko.
The programme was organised by the Department of Tourism, Lower Subansiri district unit, in collaboration with One Step Foundation, the Poper Riders and staff of the Kasturba Gandhi Seva Kendra.
The Paryatan Parv, which started on 2nd October, aims to propagate the message 'Dekho Apna Desh' with the objective of encouraging Indians to visit various tourist destinations within India, drawing focus on benefits of tourism, showcasing the cultural diversity of the country and spreading the principal of 'tourism for all'.
The programme also had special focus on Mahatma Gandhi to commemorate his 150th birth anniversary. Minali Gogoi, in charge of the Kasturba Gandhi Gram Seva Kendra spoke in detail about Gandhi, his philosophy and the Gandhian way of life to the villagers attending the programme.
Emphasizing on rural tourism and homestay, Pura Sai, a local Homestay entrepreneur shared his story with the participants. Discussions were also held on local handlooms and handicrafts and its growing economic potential in foreign markets.
Highlighting the growing awareness and demands on organic rice and vegetables, Pura Hano, MSc in Agricultural Entomology, who is also closely linked with the ATMA Project in Arunachal Pradesh, imparted training on procedure and method to generate vermicompost and manure in domestic as well as commercial level.
A team of MTB riders called the Poper Riders also join the programme after a campaign ride to several villages in and around Ziro carrying the message of 'pollution-free Ziro' and 'My Arunachal, My Heritage'.
The programme concluded with cleanliness drive and tree plantation at the Kendra premises.
The Paryatan Parv was organised by the Union Ministry of Tourism and the nationwide festival was inaugurated by Union Minister of Petroleum & Natural Gas and Minister of Steel, Dharmender Pradhan in New Delhi.