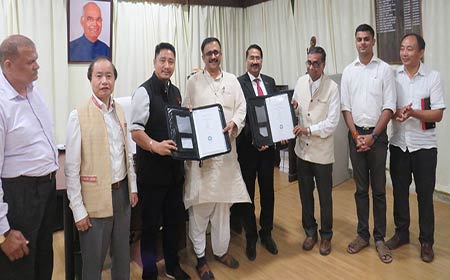 RONO HILLS, Oct 17: Rajiv Gandhi University (RGU) here has signed a memorandum of understanding (MoU) with Nagpur (Maharashtra)-based Research For Resurgence Foundation (RFRF) to collaborate in research and education and to develop a combined structure to streamline research in scientific and technology development, innovation, and entrepreneurship.
The MoU, which was signed by RGU Vice Chancellor Prof Saket Kushwaha and RFRF secretary Mukul Kanitkar here on Thursday, aims at providing new avenues for accessing, sharing and developing technical know-how between the two organizations in the field of research.
Prof Kushwaha termed the signing of the MoU a welcome step, and expressed optimism that "the MoU will be action-oriented and result-yielding."
Kanitkar said "a time-framed and evaluation-based performance will be executed jointly with the start of a planned awareness programme in the nearest future."
RGU Registrar (in-charge), David Pertin, read out the gist of the MoU, and spoke on "the importance of the joint venture in the present context."
Among others, RGU Pro-Vice Chancellor Prof Amitava Mitra, Social Science Dean Prof Tana Showren, Languages Dean Prof Oken Lego, heads of various departments, and officers witnessed the signing of the MoU.