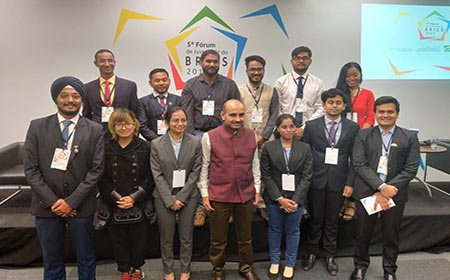 ITANAGAR, Oct 28: Junnu Pinggam and Lombi Dakpe of Arunachal represented India at the 5th BRICS Youth Summit, held at Brasilia, Brazil, from 17 to 20 October.
Pinggam and Dakpe were among the 15 Indian delegates who attended the summit.
Youths from the different BRICS nations, except China, gathered at Brasilia and discussed policies to
promote entrepreneurship, education and skills, and building bridges to improve the relationship among the BRICS nations.
Representing India, Pinggam made a presentation on the theme 'Socio-emotional skill – Importance of soft skill'.
Stressing on the importance of acquiring communication skills in today's rapidly growing world, Pinggam in her presentation outlined that "there has been an alarming rise in the unemployment rate among the millions of graduates due to lack of soft skills."
She also presented "the reality of Indian youths in rural and urban areas," adding that many students have less chance of improving themselves due to lack of transportation and other connectivity in indigenous villages.
The representatives of the other BRICS nations also made their presentations and recommendations on various topics. There were also discussions on the matter of free visa for Indians travelling to Brazil, which has been granted recently.
BRICS is a group composed of five major emerging countries – Brazil, Russia, India, China and South Africa. The acronym BRICS was coined by Goldman Sachs in 2001 to indicate the emerging powers that would be, alongside the United States, the five largest economies of the world in the 21st century.