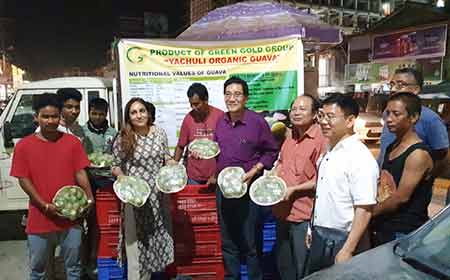 NAHARLAGUN, Nov 7: The first harvest of the organic guavas cultivated in Yachuli, in Lower Subansiri district, by the Green Gold Group reportedly fetched around Rs 1.5 lakhs.
Selling his produce from a pickup truck here on Wednesday, the grower, Likha Maj, informed that more than 1400 kgs of guavas had been sold on Wednesday itself, and said another load was on its way from Yachuli.
"I have planted 50,000 units of guava plants of three varieties. This is an organic fruit and is being sold in the open market. Hopefully, this will inspire upcoming farmers and youths of the state," Maj said.
Horticulture Joint Director Tage Tatung said the department provided the technical know-how to Maj. He said the department would support all progressive farmers who carry out such agri-horti practices.