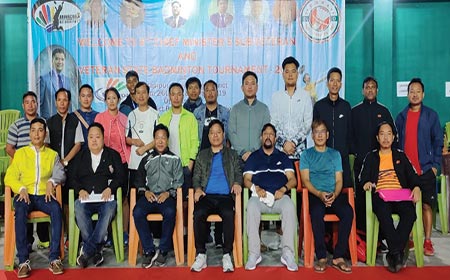 Sub-jr & jr ranking badminton tournament in Dec
JAIRAMPUR, Nov 25: Changlang district is all set to host the 6th Chief Minister's Sub-Veteran and Veteran Badminton Championship here from Tuesday.
As many as 135 players from 16 districts affiliated to the Arunachal State Badminton Association (ASBA) are participating in the tournament, informed ASBA general secretary Bamang Tago.
There will be a total of 149 matches played in men's and women's singles and doubles, as well as mixed doubles events. The tournament will be held for four age groups. They are 35+, 40+, 45+ and 50+. The mixed doubles event will be conducted only for the 35+ age category.
Local MLA Laisam Simai, who is also the president of the Changlang District Badminton Association, held a final preparatory meeting with the organizing committee members to avoid any last-minute hiccups.
He said every effort has been made to ensure that the event is conducted smoothly.
Tago, who also attended the meeting, expressed hope that the championship, being held here for the first time, would go a long way in motivating young players to play badminton.
Meanwhile, the ASBA informed that the first state sub-junior and junior ranking badminton tournament will be conducted in Doimukh (Papum Pare) from 11 to 14 December.
The tournament will be conducted by the Papum Pare District Badminton Association, and it will be held for both boys' and girls' singles and doubles (U-9, -11, -13, -15, -17, -19 years), as well as mixed doubles. The mixed doubles event will be conducted for boys and girls U-15, -17 and -19 years only.
The ASBA during its AGM for 2019 approved conducting the state ranking tournament thrice a year. The ranking tournament will be based on a point system, and the player with the highest points in three tournaments will get a state seeding and represent the state in regional, national and international events.
The point system has been implemented to improve the standard of the game and to focus more on the budding players.