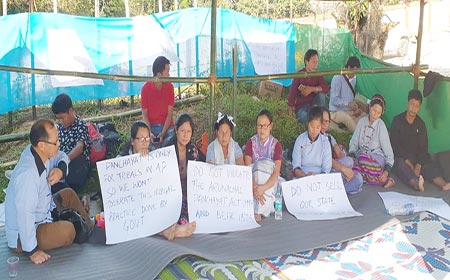 Staff Reporter
ITANAGAR, Nov 27: Demanding immediate deletion of the names of ex-Assam Rifle and other non-APST settlers from Panchayat electoral roll in Vijoynagar, the All Arunachal Pradesh Anti-Corruption Students Union(AAPACSU) and All Yobin Students Union have jointly launched an indefinite hunger strike at Tennis Court Indira Gandhi Park Wednesday. More than thirty volunteers have joined the indefinite hunger strike.
The organizations claimed that granting Panchayat rights to non-APST settlers is blatant violation of Arunachal Pradesh Panchayati Raj Act 1997 and also the violation of Article 243 D of the Indian Constitution.
It is said more than five thousand non-APST settlers have been enrolled in Panchayati electoral roll in Vijoynagar sub-division of Changlang district. The indigenous Yobins have been demanding the authority to delete the non-APST settlers' names from the electoral roll.
AAPACSU appealed to the govt to pay heed to their demand.