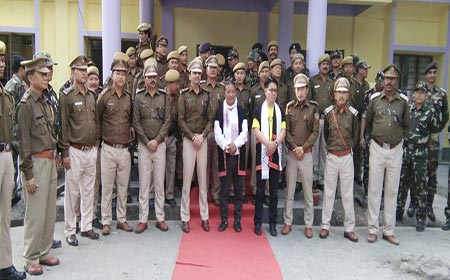 [ Karyir Riba ]
ROING, Nov 27: A counselling center dedicated for drug abuse victims established in the premises of the Roing Police Station here in Lower Dibang Valley district was inaugurated by state Home Minister Bamang Felix on Tuesday last.
The center is believed to be the first of its kind in Arunachal Pradesh.
Brain child of SP Sanjay Kumar Sain, the counselling center has been devised under the Anti-Drug Squad(ADS) of the Roing police department, and will serve as a first stop for all drug abuse victims who are brought to the police station.
"Given that, the police station may not always serve as a conducive environment to counsel these young boys and girls who have fallen victims to drug abuse, we had to come up with this center to serve the purpose. It will run in collaboration with NGOs and the medical department, and will ensure proper care and constant look out for drug abusers", informed the SP.
The Roing police department have conducted awareness campaigns, rallies, debates and essay competitions at the school level, formed community outreach programmes like the Nagrik Bhaichara Samiti(NBS) and Samwad, and as a concrete step, formed the ADS(Crime Unit) for containment of drug abuse in the district.
As per police records, under the ADS since September 2018, 67 drug peddlers have been arrested, more than 20 cases registered under relevant narcotics law, and a huge quantity of narcotics have been seized.
Sain said, "The ADS was only dealing with the penal side of drug abuse and we felt the need to delve into counselling and rehabilitation of victims of drug abuse. Hence, a rehabilitation unit under the ADS was formed, and a Nodal Officer for the unit appointed." He further informed that the ADS-Rehabilitation Unit kick started its mission by creating a registry of active users in the district, which was followed by a health camp with the help of medical officers from the district hospital, mainly to assess the health of all these drug abuse victims.
After the health camp, the first counselling session was held on 20 November last, followed by another session three days later, by Kripa Foundation, which is a leading NGO in the field of de-addiction. Reportedly, these counselling sessions will be conducted on a regular basis.
The SP further informed that after the counselling, selected drug abuse victims will be sent to rehabilitation and de-addiction camps to eventually bring them back to join the mainstream of the society. The said venture, reportedly, will be financially and logistically supported by the district police under a joint account with the presidents of the Idu Mishmi Cultural and Literary Society(IMCLS) and the Adi Bane Kebang (ABK), apex bodies of both the communities residing in the district.
Felix had lauded the initiative of the Roing police department and said that they had set an example for all other districts to follow.