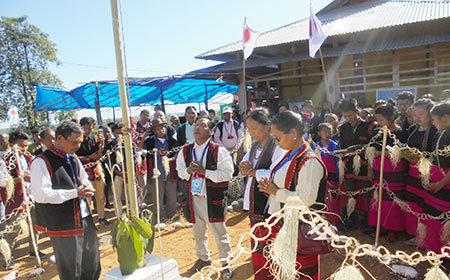 Correspondent
MIKONG, Dec 30: Members of the Donyi Polo Yelam Kebang (DPYK) of Mikong village in East Siang district observed the silver jubilee of their gangging (prayer centre) on Monday.
Attending the programme, Donyi Polo Central Gangging (Pasighat) president Ajem Tayeng urged the DPYK members to "preserve their mythological belief and religious practices through kebang activities."
Mikong Gangging secretary Nerkeng Moyong recalled that the DPYK was formed in the village in 1994 under the auspices of Golgi Bote Talom Rukbo.
"Since then, the yelam kebang members are keeping up their ancestral tradition and conducting events pertaining to Donyi Poloism in an organized form," he said.