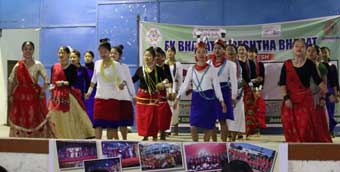 ITANAGAR, Jan 30: Students of Rajiv Gandhi Government Polytechnic (RGGP) here participated in an awareness programme on the Ek Bharat Shrestha Bharat (EBSB) campaign on Thursday.
The programme highlighted the crucial role of the prime minister's EBSB initiative in promoting 'unity in diversity'.
RGGP Principal AK Tripathi highlighted the importance of EBSB, while Assistant Tourism Director B Manna Sonam spoke on the role of the tourism department in conducting cultural exchange programmes under EBSB with its partner state.
The tourism department made a PowerPoint presentation, enumerating the activities conducted under EBSB since the signing of the MoU between the Arunachal government and the UP government.
Dance performances highlighting the combined cultures of Meghalaya, UP and Arunachal were presented, and the students of RGGP presented an Arunachal tribal dance during the programme.