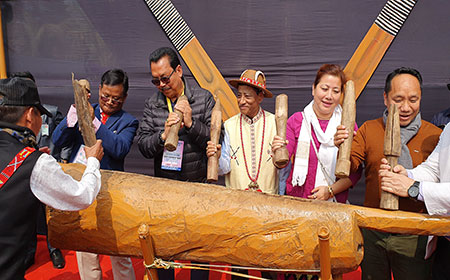 GoAP to form committee to develop Stilwell Road: DCM
Staff Reporter
ITANAGAR, Feb 16: "A committee for development of the historic Stilwell Road will be constituted, which will also take up its opening with the government of India," announced Deputy Chief Minister Chowna Mein on the occasion of Oriah festival celebration at the TCL festival ground here on Sunday.
"We should bank on the socio-cultural similarities that people of our state share with numerous ethnic groups spread across the various South East Asian countries," Mein said, adding that the road, if opened, would act as an economic corridor for the entire Northeast region.
"Despite being geographically so close to the various countries, we are yet unable to open an economic corridor in the region," he rued.
Lauding the Wancho community for preserving the various aspects of their socio-cultural life, such as the dormitory system, community fishing, woodcraft, chieftainship, etc, the DCM hailed the Wanchos as being among the bravest of tribes.
"Wancho tribe is second to none. Although we have to keep in sync with modernity, originality of folklores and folk music should be preserved at all costs," he said.
Capital Complex Deputy Commissioner Komkar Dulom, who was also present, highlighted the problems of global warming and climate change.
"Only the tribal belief and faith system can give a new lease of life to the world," he said, and urged everyone to do their bit for the environment.
He informed that very soon a large-scale afforestation programme will be carried out throughout the capital complex.
Oriah, the annual community festival of the Wancho tribe residing predominantly in Longding district, is usually celebrated after a big harvest as a thanksgiving to the local deity Jowan Rang, said Wancho Welfare Society president Chakfa Wangsu, adding that it is also celebrated "to offer prayers to our deity for rich harvest in the next season."
The DCM also released the official calendar of the Wancho Welfare Society.
Lekang MLA Jummum Ete Deori, former minister Thangham Wangham, Arunachal Chamber of Commerce & Industries general secretary Toko Prakash, and DoTCL Assistant Director Montu Mossang also attended the celebration.